Their beautiful lighting effects, versatility and ease of installation make electric fireplaces more popular than ever.  With many styles and sizes to choose from and media options galore, there's surely a spot or two in your home for an electric fireplace!  But are they expensive to operate?  How much heat can I expect?  Are they complicated to use?  These are just a few of the questions we'll answer.
ELECTRIC RATES
So, you're thinking about an electric fireplace for your home, but concerned about how much it will cost to run.  Don't be!  With the heating element turned off, you can enjoy the effects of an electric fireplaces for literally a few pennies a day!  In fact, with the heat turned off on your fireplace, it's unlikely you will notice a difference in your electric bill!
However, with the heating element on, it's a different story.  We've all heard that heating with electricity can be rather expensive.  This can be the case, especially if the house was not designed to heat with electricity.  Most WE LOVE FIRE dealers will encourage you to think of electric heat as 'supplemental' to your primary heat source.
So, let's get to the expense.  This will vary significantly in different areas of the country because of the difference in regional electric rates.  If you're not sure what your current rates are, just pull out last month's bill and check the kilowatt/hour charge.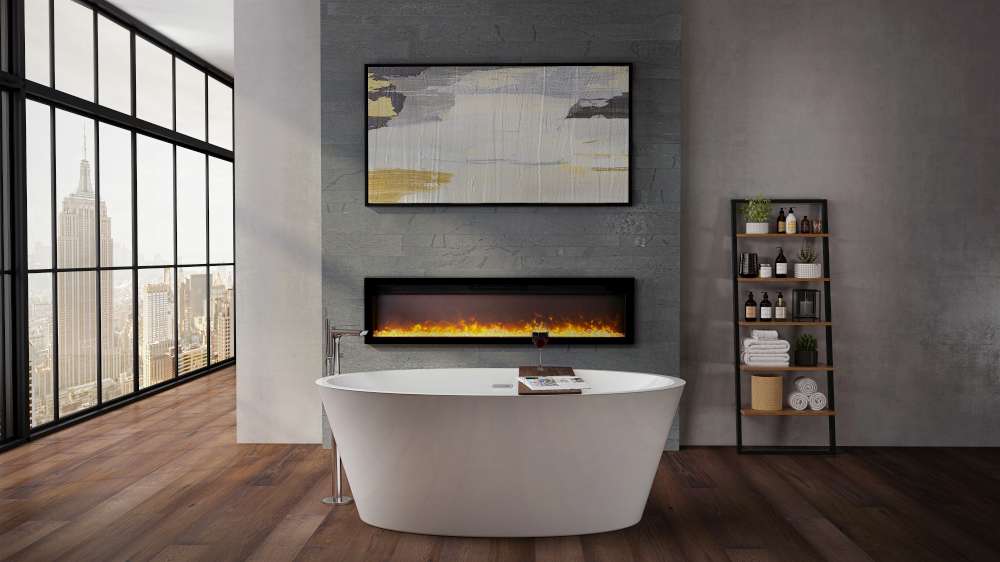 The example below assumes 1525 watts with the heat on and 25 watts with the heat off.  If your electric fireplace is on for 12 hours a day, this chart should give you an idea of the approximate cost at different electric rates.
| Cost per KwH | .04⊄ | .08⊄ | .12⊄ |
| --- | --- | --- | --- |
| With Heat Element On | .75⊄ per day | $1.50 per day | $2.25 per day |
| With Heat Off | .01⊄ per day | .02⊄ per day | .03⊄ per day |
Or, try to extrapolate your estimated cost per KWH or the length of time the fireplace is on each day.  For instance, if you're using your electric fireplace for only 6 hours/day and your electric rate is about 10ȼ/KWH, you'd be spending about $.93 per day to operate the unit.
LOTS OF ADVANTAGES!
The aesthetics and ambiance, the ease of installation and versatility and the convenience of operating an electric fireplace are just a few reasons why they are so popular today.
Since there's no vent pipe or chimney pipe to deal with, an electric fireplace can literally be installed anywhere in your home.  They can be hung on a wall or recessed into a wall.  Bedrooms, bathrooms, hallways, open stairways, foyers, dining rooms are all great locations for an electric unit.
Most customers enjoy their electric fireplace all year long, even during the warm weather!  Just turn off the heating element and enjoy the light show!  Many customers think the blue lighting effects and sparkling diamond chips give a subliminal cooling effect!  And for pennies a day, why not enjoy it?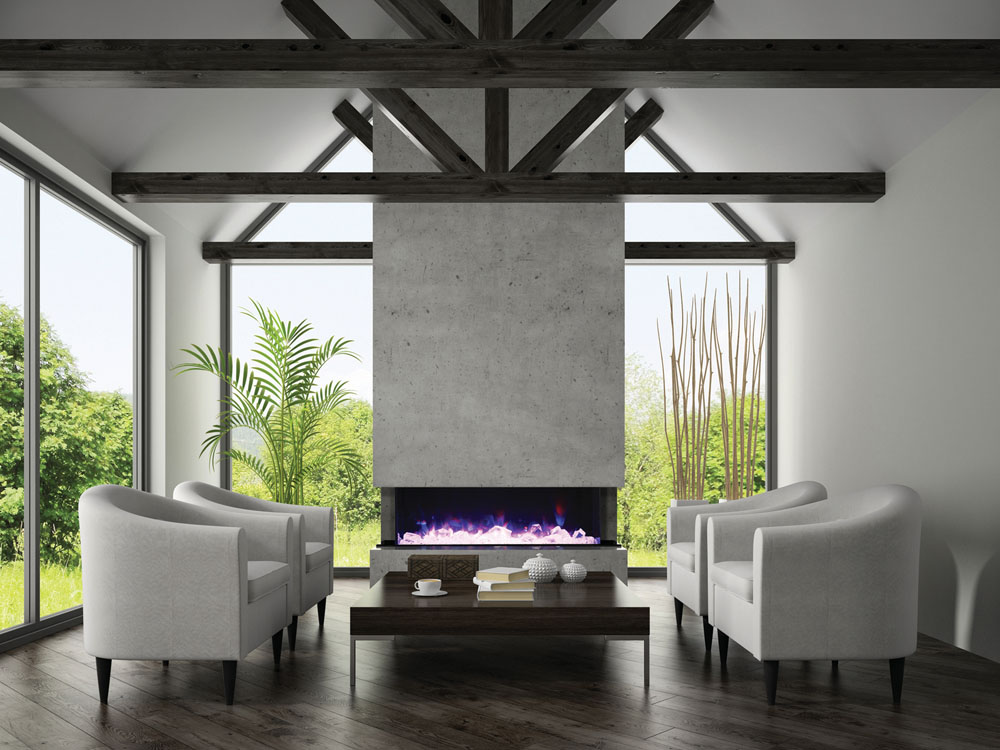 And if you looking for a little supplemental warmth in a room and wondering Do Electric Fireplaces Heat, you'll definitely be able to make an area in your home more comfortable.
One last point; no more embarrassing fake flames on today's electric fireplaces.  The lighting effects are combined with many optional log styles, pebbles, clear and colored fire glass, rocks and glowing embers for the "media" inside your fireplace.  It's a truly memorable look that you'll be proud to show family and friends.
Make plans to stop at your WE LOVE FIRE expert and be prepared to be amazed!