That old fireplace in your living room hasn't seen any heat in years.  The firebox is decorated with candles, baskets, mirrors and other creative craft projects.  Maybe there's a couch pushed up against it in an attempt to reduce the cold air spilling into the living room.  Does any of this sound familiar to you?  If so, you have several options.  But, are any of these options worth the time, energy and expense?  Decide for yourself.  Keep reading!
DECIDE ON THE FUEL TYPE
Understand that a fireplace insert is a fireplace that's been designed to slide into an existing wood burning fireplace.  This existing wood burning fireplace could be an old masonry fireplace or it could be a factory built, zero clearance fireplace.  Regardless, you'll have several models of inserts to select from, in four different fuel types:  gas, wood, pellets and electric.  Any insert will be a huge efficiency improvement over an open burning wood fireplace.
There are lots of advantages with each of these different fuel types.  What's right for your situation?  The convenience factor of gas and electric inserts makes these options extremely popular.  On and off from the comfort of your recliner! If you have the time as well as quick and easy access to a wood supply, this possibility is definitely worth considering.  You may be able to heat your house without spending money on gas or fuel oil.  If not, and you still want to burn an environmentally friendly fuel, pellets might be the right choice for you.
WOOD:
Three things are necessary to make burning wood "worth it" in this writer's opinion.  Most importantly, is time.  Do you have the time to cut, split, haul and stack wood?  Serious wood burners will burn anywhere from 3 to 6 cords of wood each winter.  It takes time to prepare wood and season it properly so it's ready to burn.  And, it takes time to maintain a fire and deal with the maintenance that's required when burning wood.
Secondly, do you have a place where your wood supply is quick and relatively easy to get to?  Or, do you have to drive an hour and a half to get to your uncle's property?  The closer the better!
The third major consideration is:  do you have the equipment to cut, haul and split several cords of wood?  The cost of a pick-up and trailer, chain saws and a log splitter, all add up.  Maintaining the equipment does, too.  If you haven't, you'd be wise to seriously consider this expense too.
GAS:
Whether it's natural or LP gas, much has been said and written regarding the convenience of this fuel.  And correctly so, because with a flip of a switch or the click on a remote, you'll enjoy easy control over amount of heat, fan speed and temperature in your family room.  And unlike wood, all this convenience with no bugs, bark, dirt or ashes to deal with.  Efficiencies of +80% are common with today's direct vented gas fireplace inserts.
PELLETS:
Wood pellets have a real niche for those that want to burn a renewable resource but may not have a reliable wood supply.  Pellets come packaged in easy to handle 40 lb. bags and are handy to stack in the corner of a garage or basement.  The amount of heat is easily controlled by the burn rate.  The pepper-fine fly ash created by burning pellets will require regular maintenance to keep your insert operating properly.
ELECTRIC:
An electric insert or fireplace is defined by application.  An electric "insert" is a bit of a misnomer, since the same unit can be built into a framed wall or inserted into a wood burning fireplace.  (This is not true of wood, gas or pellet inserts.)  An electric insert has a 1500 watt heating element and will generate heat, but not the same amount that the other three fuels will provide.  Great effects and ambiance, but depending on your needs, it might be a little light in the heat department.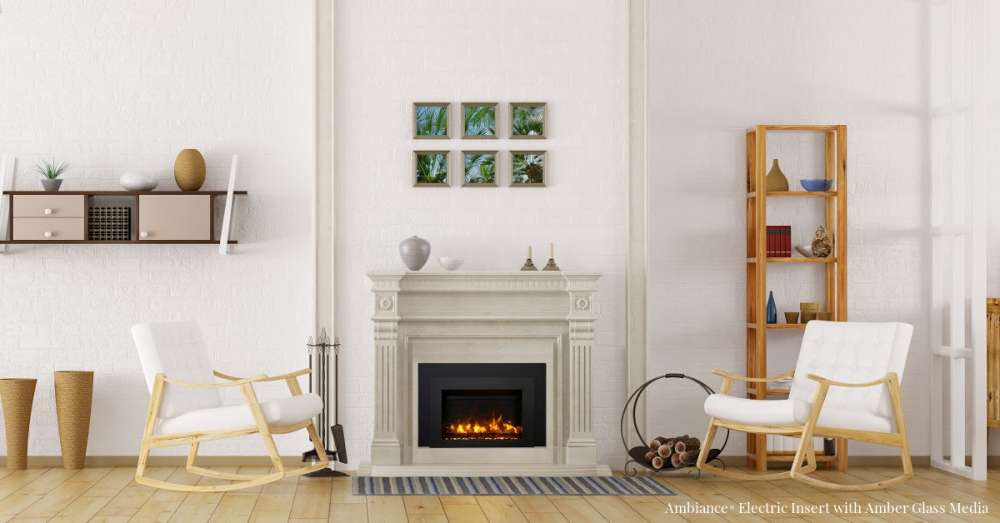 COSTS:
The appeal of an electric insert is twofold: the flame effects and the project cost.  The ease of installation does not include a gas supply line or any type of liner system.  An electric supply is all that's necessary.  Depending on the model, expect costs to be in the $1500 - $2500.00 range.
Most gas insert projects will be in the range of $4000 - $6000.00.  There are dozens of sizes and options that will affect the final cost.  And, don't forget the expense of extending a gas line and electric line into the existing fireplace.
Wood burning inserts will likely be between $4500 - $6500.00.  EPA emission requirements have added more cost to the insert.  Regardless of the size, wood burning inserts will require a 6" stainless steel liner to be installed up the existing chimney.
Finally, a pellet insert will likely be in that same range as a wood burning unit.  However, instead of a 6" stainless steel liner, a 4" stainless liner is normal for most pellet insert models.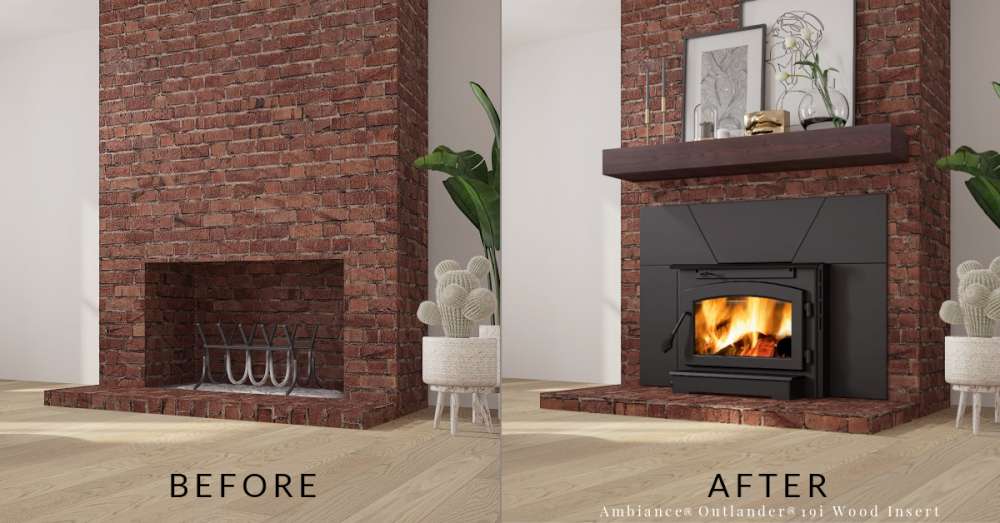 THE BENEFITS:
Many open wood burning fireplaces actually operate at a negative efficiency.  That is, they remove more heat from the house than they contribute to it.  Any fireplace insert will be a huge improvement over this situation.
All fireplace inserts, regardless of fuel type, will seal the chimney and prevent heat loss through it.  Wood, gas and pellet inserts use a liner up the existing chimney.  The liner is completely surrounded by insulation, thoroughly sealing the chimney.  Since an electric insert is not vented, there is no liner installed.  Simply sealing the damper with fiberglass insulation will solve the issues of cold air spilling into the house.  In any event, the cold draft is eliminated.
Various studies consistently show that over 50% of home buyers want at least one fireplace in their new house.  Furthermore, as a seller, by upgrading an old fireplace you turn a potential liability into an asset and a terrific selling point for your home.  Compared to other upgrades an owner can do to their home, a fireplace can often return the full investment and may actually add more value to your home!
A wood, gas, pellet or electric insert gives you the ability to zone heat your home.  Furthermore, some larger inserts are actually capable of heating up to 2000 square feet of space!
The comfort, atmosphere and feel of a warm fire in your home is difficult to quantify.  It is a direct reflection on your mood and lifestyle.  A warm, toasty fire on a cold night is just good for your soul!
So, is a fireplace insert a worthwhile investment for your home?  With dozens of options and styles, there is no doubt an insert offers a worthwhile return on the money you spend and the benefits you receive.