You think the fireplace in the family room is awesome, right?  It does nice job heating and holds a fire for several hours.  Does it seem to be missing something or look a little blahzay?   Maybe it needs something unique, a touch of class to have it reflect your life style.  What are some options that I can consider that would spiff up my fireplace?
OPERATIONAL OR NOT?
If yours is a functioning fireplace, you will need to keep in mind clearances to anything combustible.  You must maintain a safe distance between the heat of the flames and any decorations, updates or changes that are made to the fireplace.  For safety's sake, any wood trim, knick-knacks, fabrics, etc. that could burn, must be kept away from the heat generated by the fire.
If you are in a house that has an old, nonworking fireplace, accessorizing it will fall more into the 'decorating' category.  You will not need to be concerned about objects getting too hot and igniting, since there is not going to be a fire in the fireplace.
FUNCTIONAL FIREPLACES:
If you use your fireplace for heating purposes or just an occasional recreational fire, odds are you already have many of the accessories that make your life a little easier.  Tool sets with pokers, brooms, shovels and tongs, gloves, ash buckets, fire safety screens, fatwood fire starters and grates are all common items that are used frequently.
Updating an operational wood burning fireplace with an EPA certified insert is an extremely popular project.  An insert will not only give the fireplace a different look, but can increase efficiencies ten-fold over old, open burning fireplaces.  If you're planning an upgrade to your fireplace, give an insert serious consideration.  They're popular for good reason!  There are wood, gas, electric and pellet inserts to see at your WE LOVE FIRE expert's shop.   [LINK:  What fireplace inserts are best?]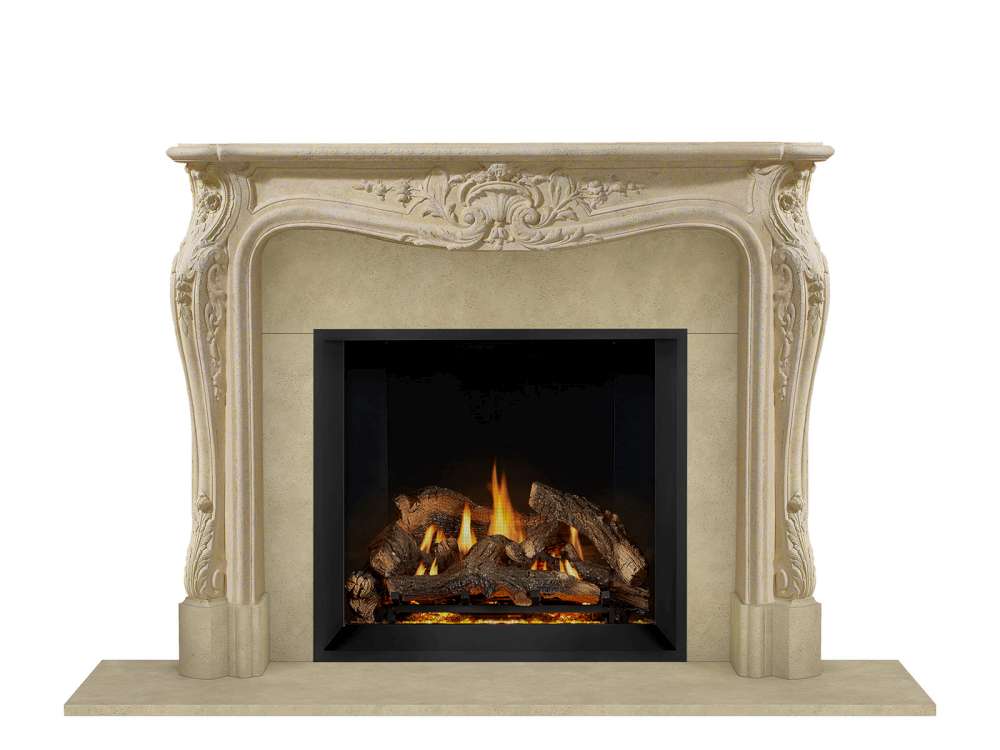 You may want to consider updating the mantel and hearth.  The mantel, often made of wood, is mounted a safe distance above the opening of the fireplace.  There are many styles of mantels made from lots of different types of wood species.  Anything from the rustic barn beam or log look to more traditional and contemporary mantels are available from your WE LOVE FIRE dealer.  And, we can help with the necessary clearance requirements for mounting a new mantel on your existing fireplace.
The hearth is that space in front of the fireplace that provides ember and spark protection for the floor.  It's always best to check your local building codes and/or manufacturers requirements, but most require a minimum of 16" or 18" in front and 8" to either side of the fireplace door opening.  We've said it before and it bears repeating . . . . when it comes to clearance requirements for wood burning equipment:  more is better!  If the minimum requirement is 18", go with 24".  If the requirement is 8", there's nothing wrong with 12".  You get the idea.  Another benefit from a two-foot-deep hearth:  no more burns and chars on the flooring in front of the fireplace doors!  Plus, a larger hearth makes clean-up a bit more convenient.
NON-FUNCTIONING FIREPLACES:
A word of caution if your fireplace is non-functioning.  Seal the damper, or somehow label or mark the fireplace as unable to burn wood.  By doing so, another family member, friend or whoever buys the house in the future does not inadvertently attempt to start a fire.
If your fireplace is non-operational for one reason or another and you do not want to repair and/or replace it, the mantel and hearth 'make-over' described above are certainly options for you too.
Many people mount a mirror above the mantel with a sconce on either side to highlight the photos and mementos on the mantel.  Accent lights from an adjacent wall or fish-eye spotlights installed in the ceiling can be directed to specific items that you what to highlight and show off.
OTHER THOUGHTS FOR ACCESSORIZING:
Other ideas for improving the looks of a non-working fireplace, paint it.  No more wood will be burned in it, so thoroughly clean it and paint the inside of it to give it a clean, fresh look.   Or course, if you like the look of the firebrick and it's not objectionable to you, leave it.  By painting the brick, and perhaps replacing the mantel, you family room will have an entirely different feel. [LINK:  Can a fireplace be painted?]
There are several decorative screens that will add a nice touch to the hearth.  In a non-operational fireplace, stack up cut wood on a grate (white birch looks great!) for a touch of realism or decorate the fireplace with candles, baskets or other items of interest.
Another option for upgrading the look of a brick fireplace is to reface it with a cultured stone.  What we mean by this is basically going over and covering all the old, outdated and dirty brick with a cultured stone product.  [LINK:  How to reface a fireplace?]  There are dozens of options available with cultured stone and lots of color combinations.  Or if a more contemporary look is what you're after, there are many tile, marble, stainless steel and metal options available.  This type of project, coupled with a gas, wood or electric insert and replacing the mantel and hearth, are worth the investment in your home and are very popular home improvement projects.
Another link you may find interesting and informative is [LINK:  Who does fireplace remodeling?]