[Note that this discussion is for a traditionally built, open burning, brick fireplace.]
Why would anyone want to paint a fireplace?  Several reasons come to mind.  Maybe:  a relatively inexpensive make-over of your fireplace, to freshen up the room when redecorating, to clean up those dark soot stains, maybe you're adding an insert or gas logs and a new door or perhaps just to change the color of an old, outdated brick.  In any case, the answer is "yes" . . . . a fireplace can be successfully painted!  It's important to use the correct type of primer and paint.  But first, let's discuss how to prepare the brick for a new paint job.
Clean First & Then Inspect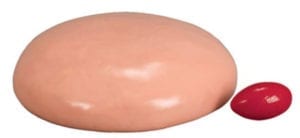 Be sure you use protective eyewear and gloves.  If necessary, use a stiff wire brush and thoroughly clean off any loose material from the brick and mortar.  Then, dunk a coarse scrub brush in hot soapy water, dish soap is fine, and aggressively scrub the face of the bricks.  The idea is to remove all dirt and any of that (efflorescence) white, powdery mineral deposits.  WARNING:  this is going to be a messy project so have plenty of old towels handy!  This first cleaning step is important because if any dirt is left behind, it will likely cause the paint to peel or chip.
If you have badly soot-stained brick and the soapy water doesn't seem to be doing much, use a 1/3 vinegar to 2/3 warm water mix and scrub it again.  It might be worth a try, depending on the severity, but sometimes Silly Putty pressed against the soot stain and then removed, will pull some of the soot from the deeper porous surface of the brick.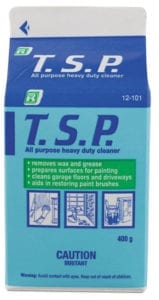 Another cleaning option for removing soot is to use ½ cup of trisodium phosphate (TSP) with one gallon of water.  Liberally sponge this mixture into the brick and allow it to soak for 30 – 60 minutes.  Then use the hot soapy water method described above.
Once you're satisfied that the brick is as clean as possible, let it dry completely for at least 24 hours.
After the brick has dried, carefully look over the fireplace for any small cracks. Fill any cracks with an acrylic caulk and let it completely dry.
It's Prime Time
Tape off any areas you want to protect and be sure to use a drop cloth to catch any splatters or drips.  When painting brick, priming is important because it helps bond the final paint coat to the brick surface.  Using a 1" or 2" brush, apply a concrete/masonry primer to completely fill all the mortar joints.  Be sure you use a masonry primer.  It's designed for porous brick.  Then, simply use a roller with a ½" nap or more and completely prime the rest of the fireplace.
Once the primer dries, carefully inspect any problem areas that were encountered when cleaning.  Areas that were heavy with soot or efflorescence would do well with a second coat of primer.  Allow 12 hours or more for the primer to dry.
Now, you should be ready now for the final coat of paint.  Use a high quality acrylic latex paint that will be able to withstand temperatures up to 200°F.  Most acrylic latex paints can tolerate 200°F.  Make sure you paint the mortar joints with a brush and evenly roll the rest of the brick.  Keep an eye out for any runs or drips.  Color is your choice.  Consider a flat or satin paint finish for best results.
What About the Inside of My Fireplace?
The process of painting the inside fire-brick of your fireplace is similar to the decorative brick described above.  After removing the ashes, the first step is to thoroughly clean it following the process outlined above.  Odds are though, you will probably do a lot more scrubbing and you will likely need to wash the inside several times with the TSP solution.  If you are planning to burn wood in your fireplace, a special 1200°F high temp paint will be necessary for the inside firebrick.  A latex paint can be used if you are not planning on lighting any fires.
Amazing
You truly will be amazed at how painting a brick fireplace can enhance the appearance of your family room.  The brick is clean and blends with the walls, floor and furniture.  The mantel is more prominent.  And those family pictures will look better, too!