It may seem like a strange question to pose; however, if you wonder whether your fireplace can cool your home when it's not in use, you would be correct! "Using natural ventilation is an easy way to green up your lifestyle and save you money by reducing your cooling bills in the summer." - Rik DeGunther, founder of Efficient Homes. With that good news, you may be asking how a fireplace cools your home, what is the best setup, and what other interesting ways can be used to cool your home? We've got the answers!
HOW DOES A FIREPLACE FRESHEN YOUR HOME?
Even though it seems illogical, your fireplace can help cool your home in the summer months when it is not in use. Cold air is denser than warm air, and so warm air rises. That being the case, it isn't always easy for that warm air to escape your home, especially when it is seemingly trapped. By directing the warm air into your fireplace and up your chimney, you can allow more room for the cooler air to circulate and evacuate the sticky, warm air out of the house. To put it simply:
Warm air rises and gets trapped in your home; the cooler air can't circulate.
Opening your damper creates an exit for the warm air.
Installing a fan, facing into your fireplace, evacuates the warm air into the chimney and out the damper.
A good draft, using your windows and patio doors, can create a fresh intake of cool air.
HOW TO SET UP YOUR FIREPLACE TO COOL YOUR HOME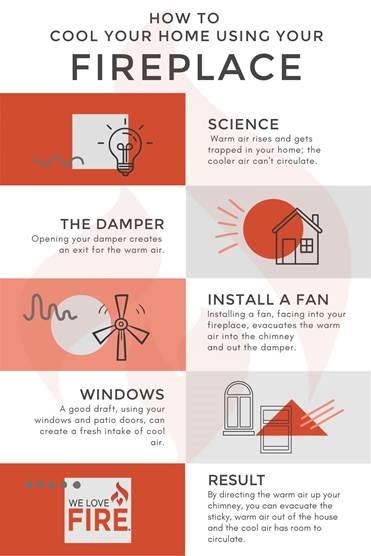 You know those window fans that adorn the entrance of every home goods store during summer, those are key in using your fireplace to cool your home. Follow these steps, ensuring that your fireplace is not in use.
Run out and grab a simple window fan that will fill the opening of your fireplace as much as possible; go ahead, we'll wait.
Face the fan into the opening of your fireplace. Seal off the open areas around the fan using cardboard and tape.
Open your dampener completely, allowing for a wide channel of air to escape.
Turn the fan on and marvel at how cool your home gets.
In the slight chance that you have a second fireplace attached to the same chimney, you will want to install the fan on the highest floor. Mother Earth News cautions, "make sure, first, that you don't have an upstairs fireplace or woodstove on the same flue ... or you're apt to fill the upper room with soot!". I'm not sure about you but cleaning soot out of our furniture and home is not on our to-do list.
EASY GREEN OPTIONS FOR COOLING YOUR HOME
Often going green is associated with grandiose designs and high-tech installations. However, the simple fact is going green is not that hard, especially when it comes to cooling your home. Embrace the green initiative by applying the following tips:
Use the directions mentioned above to set up your inactive fireplace as a cooling tool.
Re-evaluate the location of your home's ventilation. Vents that are well-positioned one above another, throughout the floors of your house, are better able to help heat rise and escape your home.
Take advantage of a good breeze by strategically opening the windows. More is not always better in this case. "To increase the speed of the breezes, use smaller openings for the inlets and larger openings for the outlets." - Dummies.com.
Long passes will create a better airflow, as opposed to opening two windows side by side. Play with it, as the best results for your layout takes a little trial and error.
Take into consideration your local climate. Mornings and evenings generally tend to be cooler, and so you may need a different set up to cool your home when the sun is full.
Now, what about when the weather turns cold? What tips make heating your home with your fireplace more efficient, can a fireplace heat my whole house? WeLoveFire.com has those answers, too; we really do love fire, whether it's for heating or cooling.