Ambiance is all about setting the right mood, and it can be easily curated in the most centralized and valuable rooms of your home. Whether you're enjoying a home-cooked meal, reading the newspaper quietly, or winding down with your favorite hobby, being in a positive environment will only make every new experience that much more pleasant.
The dining room is where families and friends come together to enjoy delicious food, participate in enlightening conversation, and create memories. It is therefore vital that it is used to its fullest potential. When decorated with your style in mind, it can truly be transformed into a warm and inviting space that will set the tone for a memorable evening and leave a lasting impression on guests.
We here at WE LOVE FIRE® would love to guide you in your exploration of dining room decor. Mainly, how different design components and even your natural senses can contribute to its vibe.
Lighting Sets the Mood for Your Meals
Lighting, for one, is crucial to make your dining room an inviting place for you, your family, and your guests. The type of lighting you choose can set the mood for the meal, whether it's a romantic dinner for two or a family gathering. Soft lighting can create a cozy atmosphere, while brighter lights can make the room feel more open and spacious.
For your everyday dining room experience, consider a dimmable light. The lighting fixtures should reflect your style and merge well with your existing decor. Chandeliers, pendant lights, or wall sconces are preferred fixture choices in this space. Try mixing and matching them to add depth to the room. If you're looking to add some farmhouse flair, choose statement lighting fixtures such as a large chandelier with vintage bulbs or an industrial-style pendant light. These are sometimes not the first thing that people's eyes land on but will nonetheless add character and a touch of elegance to your dining room.
Reflections of your Personal Style
The furniture in the dining room will also contribute to the atmosphere of the space. The dining table and chairs should be comfortable and stylish, and the size of the table should be appropriate for the size of the room. For a rustic and vintage feel, choose a large wooden dining table and chairs. These pieces add character and a touch of wistfulness to the dining room. If you prefer adding a fresh and contemporary twist to your environment, sleek and simple designs can make the room appear more spacious and less cluttered, allowing for more natural light to flow throughout the room.
You can also add functional pieces such as sideboards and buffets to add storage and display areas for dishes and decor items. Looking for a way to combine both rustic charm and fashionable elegance to your dining room? Check out Modern Farmhouse Dining Room by Michaela Diane Designs!
Accessories are the finishing touches that add quality instead of functionality, both of which are crucial in interior design. The accessories should be carefully selected to complement the color scheme, texture, and furniture of the room. Pick objects that fit with any style, such as rugs, plate displays, candle sets, or landscape or still life paintings. You can also add plants to the room to bring in the energy of growth and renewal. Consider placing potted plants on your windowsill, or incorporating a large statement plant into the room. The choices are abundant!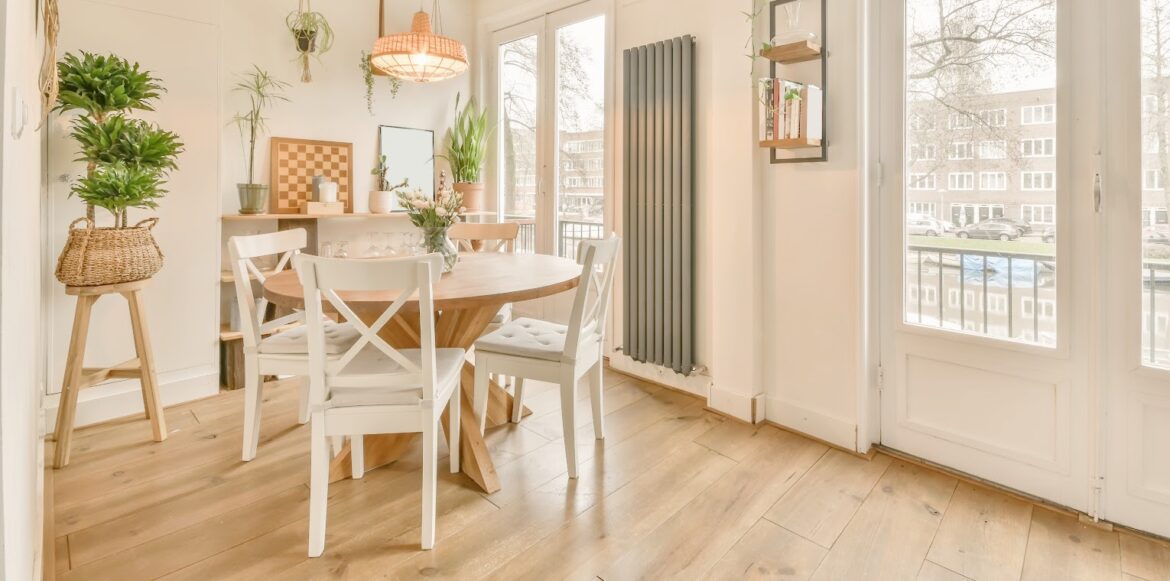 There's Beauty in the Details
Bring a brand-new feel to your lackluster dining room with these design components. Colors, textures, temperatures, and scents can completely change how you and your guests feel in your home; techniques that neuroscientists and interior designers are still learning about every day!
Color schemes are a great example of a component that can contribute greatly to the ambiance of a dining room. The colors of the walls, furniture, and accessories should all work together to create a cohesive and appealing space for you to enjoy every moment. For a more countryside feel, neutral color schemes with pops of color, such as a white or beige wall with a bright blue or green accent chair are the way to go. Muted tones can also create a more subdued and sophisticated atmosphere. For an eclectic and exciting room, go for bright and bold colors that will add a pop of energy and vibrancy to the space.
Texture is another vital component in design. The texture of the walls, furniture, and accessories can all work together to create a cozy and inviting atmosphere. Natural textures such as exposed brick walls, shiplap walls, and reclaimed wood furniture add warmth and depth to the room. The use of natural materials like stone, leather, and cotton are also great for an introduction to texture and are usually easy to find on a budget!
If the room is too cold or too hot, guests may feel uncomfortable and be less likely to enjoy the meal. Therefore, temperature must be set perfectly. A fireplace can be a natural way to add warmth to the room while also creating a cozy ambiance, especially during the colder months. You have the choice between an electric, gas, or wood fireplace and Ambiance® has many models and styles to choose from. Whether it's a traditional brick fireplace or a modern gas fireplace, all serve as a focal point and create a sense of comfort and relaxation for guests. Not sure which one is the best for your home? WE LOVE FIRE® has the answer for you in our What Fireplace Model Is The Best? blog!
Finally, the scent in the room can also impact and influence the mood of the dining room. A pleasant aroma can create a sense of luxury and repose for guests. Try to incorporate candles or diffusers with natural scents, such as lavender or eucalyptus, to create a comforting and soothing atmosphere.
Here at WE LOVE FIRE®, we believe that dining room decor plays a crucial role in creating an elegant space for gathering and entertaining. By considering design factors like the ones mentioned above, you can transform your dining room into a stylish and functional area that reflects your personal style and enhances the dining experience for you and your guests. Whether you prefer a rustic or modern look, there are countless options to choose from that can help you achieve your desired dining room ambiance. Now that you've carefully chosen your dining room decor, it's time to relax and enjoy the moments spent with your guests.