Our house can only truly be a home with a central place for electrifying gatherings. Whether it is with family or neighbours, on special occasions or simply on a breezy Sunday afternoon, there is no better feeling than a congregation of bodies having meaningful exchanges in a space that evokes style. And what better centralized space than the living room? It is the eye-catcher of the home and the playground of the homeowner. While some might be scared to take on such an important decor challenge, know that creating an ambiance, feeling, or atmosphere between four walls doesn't take the skill of a professional interior designer. All you need is some personalization and a few good tips from someone who knows what they are talking about. So, today, join us on the journey to creating the living room ambiance that will attract all the members of your entourage.
The first step to creating a living room ambiance worthy of Joanna Gaines is to emphasize creating a warm, inviting, and comfortable space. With this guide, we'll explore how ambiance can affect our five senses and vice-versa, how colors can change the energy of the space, and how the four elements can bring the outdoors to the indoors in the most charming ways.
You'll notice quickly how we avoid using television as a center piece in our living rooms. That is because we value the feeling of togetherness, something that is hard to nourish when all eyes are glued to the flashing images of a screen. However, feel free to add a television to your space and add these decor ideas to the surrounding areas. Check out our article about trendy products for fireplaces for a way to seamlessly incorporate a television to your decor.
And now, let us present the ultimate Living Room Ambiance guide by us here at WE LOVE FIRE®!
Appeal to the Five Senses
Sight: The visual appeal of a living room sets the tone for the entire space. Try incorporating natural elements such as driftwood, unique rocks, or green plants to create an indoor-outdoor contrast. The use of neutral colors, such as white, beige, and light gray, can create a more calm and serene environment that will put your guests at ease. Adding texture through throw pillows, soft blankets, airy curtains, and thick rugs can also enhance the visual aspect of your room. Consider choosing table lamps and light fixtures that cast a warm glow instead of harsh overhead lighting that can hurt the eyes in the long run.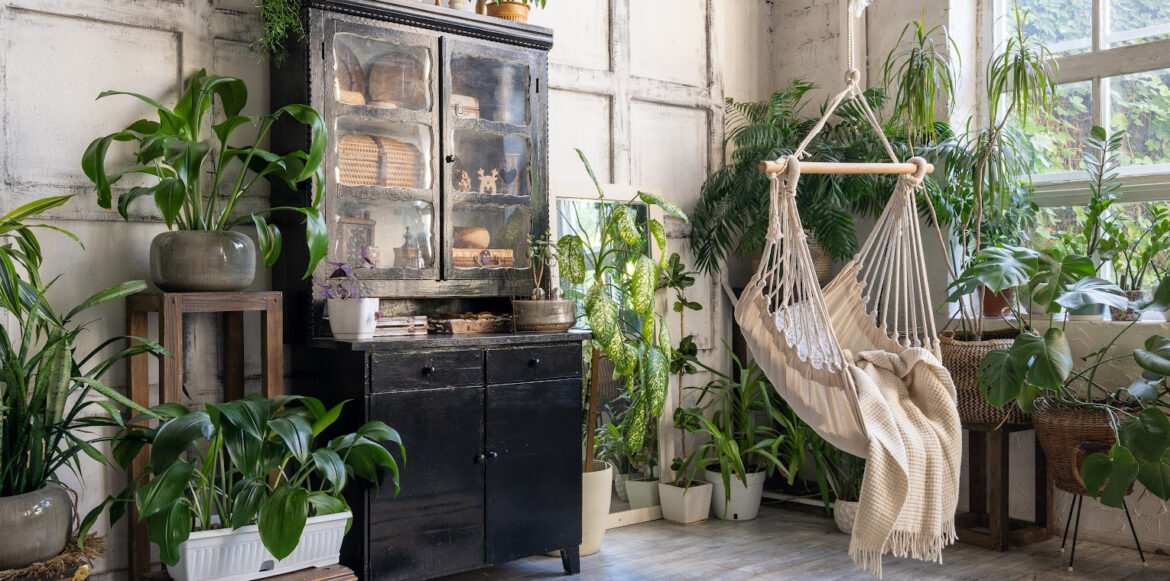 Smell: The sense of smell is closely tied to our emotions and memories. To create an olfactory ambiance, consider lighting scented candles, incense, or using essential oils in a diffuser. According to HomeSick, here are some of the most popular scents in aromatherapy:
Rosemary: For energizing your senses. Makes you feel more concentrated. Use when stressed while working on a big project.
Jasmine: Promotes sleep and unwinding when you're too exhausted to function.
Sea breeze: Brings the beach to your space. Releases tension.
Lemon: Stimulates brightness and positivity in the surrounding areas.
The natural scents of wood, cinnamon, vanilla, and lavender also are all known for their calming effects on the body and mind.
Sound: The sound in a living room can greatly impact the ambiance. We suggest incorporating soft background music like ambiance playlists on all your music streaming platforms or the sounds of nature, such as birds chirping, to create a peaceful environment. In the summer, open your windows to let the sounds of nature transport you. If you're in a heavy-noise area or urban zone, you can also use soundproof curtains or wall hangings to reduce outside noise and create a more serene atmosphere.
Touch: The sense of touch is crucial to creating a comfortable ambiance. Try adding soft and plush fabrics such as velvet and wool to add contrasts in sensory materials. Adding comfortable and inviting seating options, such as overstuffed armchairs and sofas, can also enhance the sense of touch in a space.
Taste: The sense of taste can also play a role in your dream living room ambiance. Consider setting up a coffee or tea station with fresh pastries, fruits, or other snacks for guests to enjoy. Having a well-stocked bar with beverages can also add a touch of thoughtfulness for all to experience. If you're looking specifically for warm beverage recipes for the cold season, why not take a look at Hot Beverage Recipes to Enjoy By The Fireplace?
Consider the Effect of Color
Did you know colors can have a psychological effect on mood? This theory was tested by both art students and international scientists. The result was simple: bright and vivid colors elicit strong emotions, so choose colors that make you happy. Below, we've compiled a list of colors and matched them with their corresponding reactions.
Yellow: Known to evoke feelings of happiness and warmth.
Green: Associated with growth, freshness, and peace.
Blue: Creates a calming effect and promotes serenity.
Orange: Encourages socializing and is associated with warmth and cheerfulness.
Lavender: Can have a soothing and relaxing effect on mood.
Remember, personal preference, natural light from windows and the lighting in the room will also influence the perceived color, so choose colors that fit finest with the decor you already have in place and don't forget to explore different contrasting shades and hues to really bring out the best in your style choices.
If you want to learn more about this topic, check out the article "Use Color to Affect the Mood in Your Home."
Bring Nature Inside With the Four Elements
The four elements - Earth, Air, Fire, and Water – are aspects that most do not think about when it comes to their living room decor. However, they can ground us in our space and make us feel more alive and more harmonious. Find below the list of elements and their style inspiration to help with your next project.
Earth: Earth elements such as stone, wood, and pottery can add a grounding and natural feel to the space. For example, a wooden coffee table can bring warmth and texture to a room.
Air: Air elements such as plants and soft textiles like curtains and throw pillows can add a sense of lightness and freshness to a space. Using plants can also help improve indoor air quality.
Water: Water elements such as fountains or aquariums can add a calming and soothing effect to a room. A water feature can also bring a touch of nature indoors and create a peaceful atmosphere.
Fire: Fire elements such as candles, lamps, and fireplaces can add passion and light to a space, creating a cozy ambiance.
Personally, we here at WE LOVE FIRE® love that last one. Our fireplaces all have the benefit of incorporating all the above-mentioned components into one incredibly electrifying fixture. They enlighten the senses with their unique log-burning smell, enveloping warmth, and relaxing sounds. They also display an abundance of bright and fiery colors for a dose of happiness all year-round and are the ultimate channel for the safe use of the fire element. See the many options for Ambiance® fireplaces, whether wood, gas, or electric, and you're certain to find one to suit your style and decor.