Excerpted from Project Smoke by Steven Raichlen (Workman Publishing). Copyright © 2016. Photographs by Matthew Benson.
Yield: Makes 4 racks, enough to serve 4 really hungry people, or 6 to 8 as part of a larger meal
Method: Hot-smoking
Prep time: 20 minutes
Smoking time: 3 to 4 hours
Fuel: Oak logs, chunks, or chips—enough for 4 hours smoking (see chart on page 12)
Gear: A rib rack (optional)
Shop: For the pork, ideally ribs from a heritage breed like Berkshire or Duroc. For the cherry syrup, you want an imported brand like Torani from Italy. Look for it at your local coffeehouse or gourmet shop, or online from amazon.com.
What else: I offer two methods here: traditional low-and-slow-smoking and, as a variation, higher heat smoke-roasting. The first gives you meltingly tender ribs. The second produces meat you gnaw off the bone.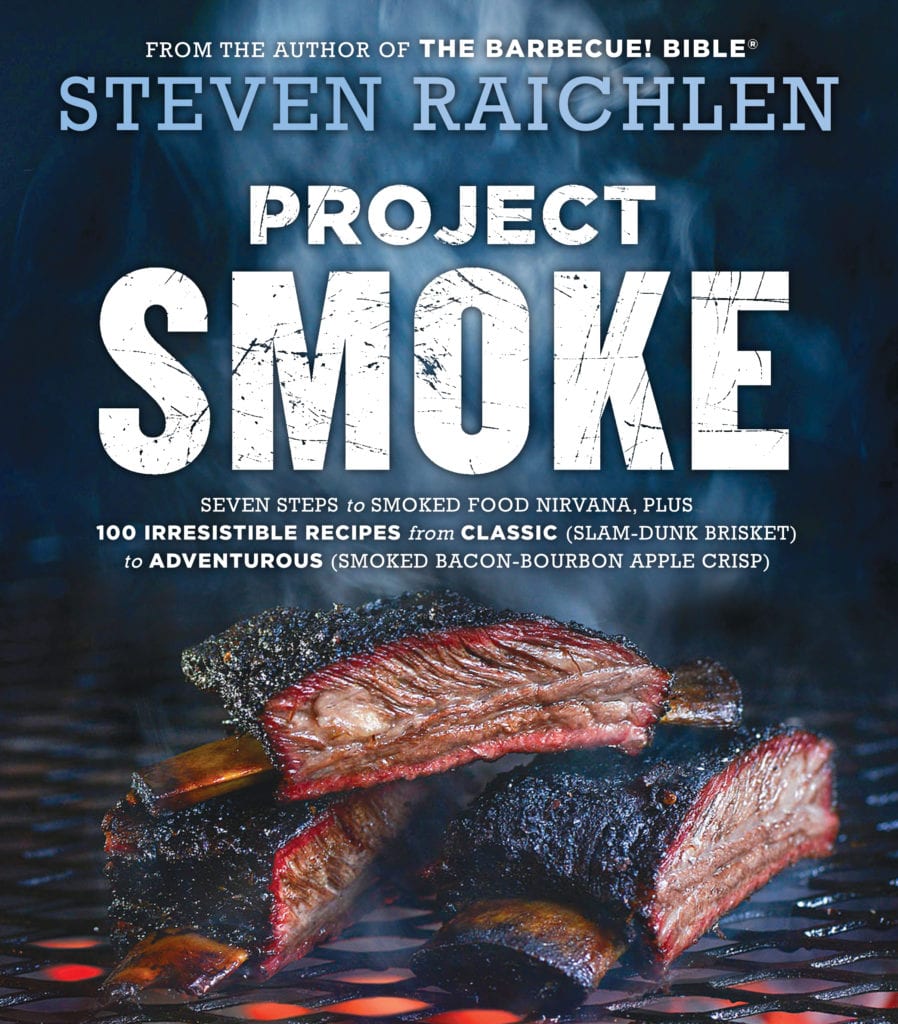 Cut from high on the hog (adjacent to the backbone), baby back ribs, aka top loin ribs, offer the perfect ratio of tender meat to moisturizing flavorful fat. Smoke baby backs low and slow and you get a softer texture and richer smoke flavor. Smoke-roasting at a higher temperature crisps the meat fibers, so you get a crustier, chewier rib than with slow-smoking, and you cut the cooking time to less than 90 minutes. (Do not try this with spareribs.) Detailed instructions for both methods follow.
One doesn't normally associate baby backs with Texas, but Jason and Jake Dady have made them an object of cultlike adoration at their Two Bros. BBQ Market in San Antonio. They do so by applying a smoked paprika-coriander-brown sugar rub to the ribs prior to a four-hour smoke with Texas oak in brick pits blackened with age and creosote. But wait: What's that sweet-sour fruity note caressing your palate? And why do you find yourself thinking of the cherry in a Manhattan? This brings us to the Dady secret, for the brothers glaze their baby backs with cherry syrup during the smoking process and again just before serving, a combination that's as beguiling as it is unexpected. Normally, I recommend a half rack of baby backs per serving, but with these cherry-glazed bones, you may want to commandeer a whole rack for yourself.
INGREDIENTS
4 racks baby back ribs (2 to 2 1/2 pounds each)
5 tablespoons sweet paprika
1/4 cup brown sugar (light or dark—your choice)
3 tablespoons Spanish smoked paprika (pimentón)
2 tablespoons ground coriander
2 tablespoons fennel seeds
2 tablespoons coarse salt (sea or kosher)
1 tablespoon cayenne pepper
2 teaspoons ground cumin
1 1/2 cups cherry syrup, plus extra as needed
Arrange the ribs on a rimmed baking sheet. Remove the thin, papery membrane from the back of each rack of ribs following the instructions on page 97 (number 3).
Make the rub: Place the sweet paprika, brown sugar, smoked paprika, coriander, fennel seeds, salt, cayenne, and cumin in a small bowl and stir to mix, breaking up any lumps in the brown sugar with your fingers.
Sprinkle 1 to 1 1/2 tablespoons of the rub on both sides of the ribs, rubbing it into the meat with your fingertips. (This makes more rub than you'll need for this recipe; store the excess in a sealed jar away from heat and light. It will keep for several weeks.)
Set up your smoker following the manufacturer's instructions and preheat to 225° to 250°F. Add the wood as specified by the manufacturer.
Place the ribs directly on the rack in the smoker bone side down. If space is limited, use a rib rack to smoke them vertically. Smoke the ribs until browned and almost tender, 3 hours.
Brush the racks of ribs on both sides with cherry syrup. Continue smoking until very tender, 1 hour more. Baste the ribs twice during the last hour—the cherry syrup should cook to a sticky glaze.
There are three ways to check for doneness: The meat will have shrunk back from the end of the bones by 1/4 to 1/2 inch. When you lift a whole rack with tongs, it will bend like a bow and start to break. And you should be able to pull the individual ribs apart with your fingers.
Transfer the ribs to a cutting board. Brush the racks on both sides with cherry syrup one final time. You can serve the racks whole, cut in half, or cut into individual bones. Serve any remaining syrup on the side.
Variation
Smoke-Roasted Cherry-Glazed Baby Backs
Prepare and rub the ribs as described in Steps 1 and 2 in the previous recipe. Set up your grill for smoke-roasting (indirect grilling—see page 262) and preheat to 325°F. Place the ribs in a rib rack over the drip pan between the mounds of coals.
Smoke-roast (indirect-grill) the ribs until browned and almost tender, 1 hour. Brush with cherry syrup. Continue smoke-roasting the ribs until cooked (follow the doneness tests in Step 7), another 15 to 30 minutes. Glaze once or twice more during cooking. Give the ribs a final glaze, then carve and serve them as described previously.
Excerpted from Project Smoke by Steven Raichlen (Workman Publishing). Copyright © 2016. Photographs by Matthew Benson.