So, you're planning to build or do some remodeling and you're wondering if a fireplace is going to be a good idea?  Should we think about wood, gas, electric or maybe pellets?  If we sell the house, will a fireplace be a selling point or a liability?  Will it add any value to my home?
GOOD NEWS!
The opinion of the National Association of Real Estate Appraisers is: "A homeowner can often recover over 100% of the expenses associated with adding a fireplace upon selling their home.  Adding a fireplace can increase the resale value of the home by as much as 6 – 12%".  Good news, indeed!
Return on investment (ROI) should always be a consideration when planning to build or remodel.  So, a fireplace should definitely be in the cards if you are planning a project.
FIREPLACES ARE DESIRABLE!
We all know that a fireplace creates the ambiance and feel of a cozy, warm and safe place.  A fireplace is one of the amenities in a home that is practical and functional.  Today's energy saving appliances are enjoyed by everyone!  In fact, the National Association of Home Builders says that nearly 75% of homebuyers state a fireplace is one of the most desirable features they're looking for.  And the National Association of Realtors say that nearly half of the people buying a home are willing to pay more, if the home has at least one fireplace!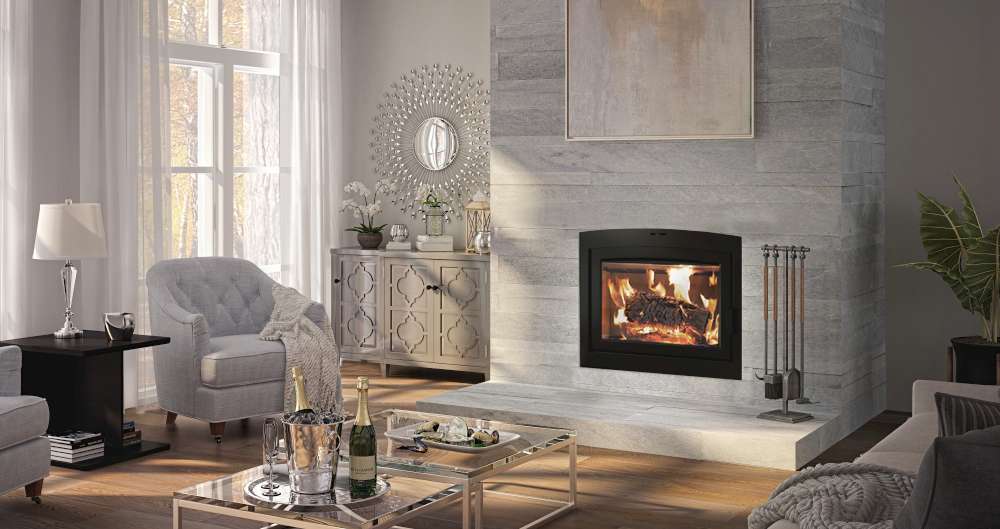 WHERE TO LOCATE?
With these thoughts in mind, where is a good location for a fireplace?  Number one on the list is the family or living room.  Makes sense.  The area that the family spends the most time together and the center of the home is the family or living room.
But do not overlook other places in your home.  How about a fireplace in the bedroom, bathroom, dining room or even at the end of a hallway or an open stairway?  Today, different sizes and shapes of fireplaces can mean a unit located anywhere in your home.
WHAT KIND OF FIREPLACE IS BEST?
There is not a correct answer for that question.  A gas or wood burning fireplace will provide significantly more heat than an electric model. If heat is very important to you, go with gas or wood.  However, there are several scenario's where aesthetics and ambiance are more important than heat.  For example, an electric fireplace mounted on a wall in the master bedroom.  Many people sleep better when their bedroom is a bit cooler than the rest of the house.  You can enjoy the flames and light show from an electric fireplace, with or without the heating element on.  How about an electric fireplace in your formal dining room?  With eight or ten or twelve people around a table, you probably don't need much heat.  But picture a five or six foot linear fireplace in a wall providing that cozy atmosphere during special gatherings.
When planning, keep in mind that a gas fireplace will need to be vented horizontally out a sidewall or vertically through the roof.  Wood burning equipment will require a chimney to go up through the roof.
INSTANT VALUE & ESTIMATED COSTS
Any type of fireplace will add more appeal and instant value to your house.  Generally speaking, electric units will be your least cost option.  Gas models next, followed by wood burning fireplaces.  Both equipment and installation costs with gas and wood fireplaces are more than an electric model.
Ball park equipment costs:  Electric fireplaces in the $1500 - $3500.00 range.  Gas in the $3000 - $7000.00 range.  Wood, $4000 - $8000.00 and pellet equipment $4000 - $7000.00.  Installation charges and finishing costs (brick, stone, tile, slate, mantels, etc.) can run anywhere from a few hundred dollars to over $10,000.00, depending on several details.
WHAT ABOUT FIREPLACE DEMOLITION?
If I have an older home with an older wood burning fireplace . . . . should I remove it?  This is an excellent question and one that comes up fairly frequently.  And the answer is a definitive:  it depends!
It depends on the type and condition of the fireplace.  For example, a house built in 1980 with a zero clearance (ZC) fireplace should be looked at differently than a house from the 20's, 30's or 40's, built with a masonry fireplace.  It would likely be a good idea to physically remove the ZC fireplace.  New equipment can be installed within the same footprint.  The odds are in your favor that another wood burning fireplace will fit into the same space.  The odds are very high that a gas model would fit into the framework of an old wood burning, ZC unit.
A masonry fireplace is a different story.  The support of a masonry fireplace starts in the basement, with a large concrete footing.  This carries the weight of the brick, block and stone work above it.  Demolition of a masonry fireplace is considered major surgery and is usually not necessary.  Not necessary because there are many different sizes of inserts on the market.  Odds are again in your favor that there will be several inserts that would be able to be slid into an older masonry fireplace.  Inserts put new life into old, inefficient fireplaces.  Furthermore, your insert options would include all four fuels:  wood, gas, electric and pellets.

FINAL THOUGHTS
If you are planning improvements to your home, bathroom and kitchen projects are often in the discussion.  And rightly so!  But according to Remodeling Magazine, major renovations in the kitchen and bathroom normally yield an ROI around 60%.  That is not to imply that these projects are not worthwhile or important.  Just the opposite.  They are the two most critical rooms that a potential homebuyer is attracted to.  And, the two rooms in the house that get used the most.
If a new home or remodeling project is in your future, consider:
. . .  the amount of dollars you're going to be investing.
. . .  the enjoyment you and your family will receive from the improvements.
. . .  the time you are going to continue to live in the house.
So why add a fireplace, or two or three to your home?  Because a fireplace:
. . .  adds additional heat to those areas in your home where you spend the majority of your waking hours.
. . .  will add more value to your home and makes it more appealing to a potential buyer.
. . .  is the focal point of the room and a reflection on your lifestyle.
. . .  creates a warm and cozy, comfortable and inviting ambiance in your home.
. . .  is the place where your most treasured family pictures, mementos and seasonal decorations are displayed.
It's easy to see how a fireplace adds value to your home in lots of different ways.