The smoker, just like the barbecue grill, offers a combination of flavors and smells that will surely stimulate your appetite. Many people think you need a great deal of knowledge and a big investment to enjoy the delicious taste of smoked foods. Actually, that's not really the case. Here are a few methods and tips on how to try smoking foods on a grill.
THE REQUIRED EQUIPMENT
THE SMOKERS AND OTHER APPLIANCES
There are many types of smokers on the market today. The horizontal and vertical smokers are designed primarily to smoke meats. Some work with wood, others with pellets, charcoal, gas or electricity.
If you don't want to spend money on an actual smoker that might not be used too often, a better choice could be a multi-function barbecue. Whether powered by charcoal, pellets or gas, a multi-function grill would be a wiser and more flexible choice for cooking.
If slow cooking seems like a lot of messing around to you and you don't want to commit the time to this type of food prep, consider adding liquid smoke to your marinades. It comes in several species of wood.
Smoking on a board is also a great alternative; you can try it on salmon, you're going to love it!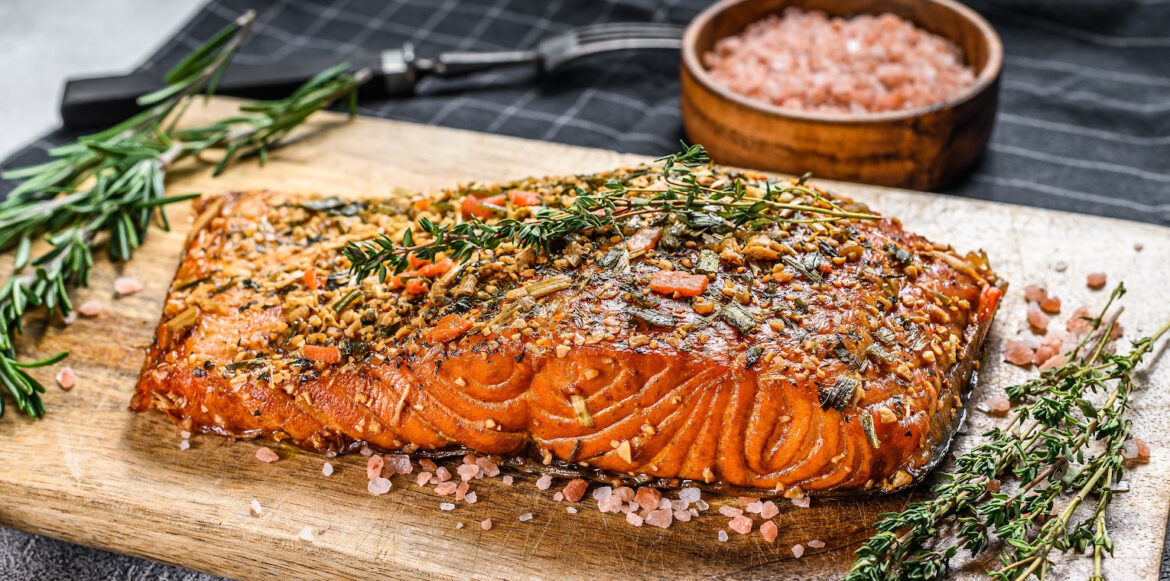 TO EACH WOOD ITS FLAVOR
We recommend using wood from deciduous trees for smoking meats. They each offer their own particular flavor. Keep in mind that:
Fruit trees such as the cherry, apple or peach trees are perfect for more delicate tasting meat like pork, fish and poultry. Maple also offers a wonderful alternative.
Hickory and mesquite are better suited for stronger tasting meats like beef or wild game. This wood can be purchased in different formats like chips, sawdust, wood chunks, pellets or logs. It's often a good idea, although not essential, to immerse the chips in water for 30 minutes before use.
THE METHODS
COLD OR HOT SMOKING: WHAT'S THE DIFFERENCE?
Cold smoking consists of injecting smoke aroma in the ingredient which remains raw. To achieve this, the temperature must reach a maximum of 100oF (38oC).
Above 104oF (40oC) is considered hot smoking, meaning you're cooking as well as adding flavor.
Each type of meat and the amount of meat you're preparing has its own ideal cooking temperature. Most of the time, allow a minimum of 2 to 3 hours for cooking time. However, certain cuts and larger volumes will require a lot more time, maybe as much as 10 - 12 hours or more!
GRILLING TECHNIQUES
On a barbecue, use the indirect method. The principle is similar to grilling, however the smoke originating from wood is healthier than the smoke from fat.
On a charcoal grill, separate the lumps (or charcoal) away from meats in order to eliminate any direct contact between them; keeping them on separate sides.  Just below your food, place a water-filled tray to collect fat. You can also use it to enhance flavor by adding a bit of beer or juice to the water. The smoking wood must be placed on the hot charcoal while preheating your grill.
With a gas barbecue, shut one burner completely off and position the meat on that side of the grill.
Many people put wood chips in an open aluminum container. Others seal the chips tightly in aluminum foil and then pierce a few small holes in the foil to release the smoke. A third option is to use specially designed accessories such as smoker pipes and smoker trays.
Smoking on a grill is a fantastic way to tantalize your taste buds, whether you use a smoker, a multi-function barbecue or even some liquid smoke flavor. With our tips and techniques, you can enjoy finger-licking smoked goodness right in your own backyard!