Maple Glazed BBQ Ribs
---
Serves 2, 1/2 rack each
Prep: 15 mins - Cook: 3 to 4 hours for baby back ribs
Created by:

Chef meathead Goldwyn

AKA the Barbecue Whisperer, Meathead is an author and the founder of the popular outdoor cooking websites AmazingRibs.com. He has taught at Cornell University's School of Hotel Administration and Le Cordon Bleu in Chicago, and was recently nominated for the Barbecue Hall of Fame.
About this recipe
Impress guests at your next BBQ and grilling cookout with this sweet and savory rib recipe
starring a savory sweet glaze. The secret is that you'll use the Texas Crutch, which is wrapping the meat in foil late in the cook, and then take the juices from the foil, add some apple juice, maple syrup, and make the glaze. It makes extremely tender, juicy meat with a beautiful mirror- like sheen. More than one cook has written me to tell me that the recipe makes the best ribs they have ever tasted. The secret is real mmmmmmaple syrup.

Ingredients
1 slab of baby back ribs
4 tbsp of Meathead's Memphis Dust
1 cup apple juice, to be divided
1/4 tsp Morton's kosher salt per pound of ribs
2 pinches salt for the glaze
2 tsp hot sauce
1/4 cup real maple syrup

---
Directions
1. Set up your cooker for 2-zone cooking and get the indirect side to 225°F.
2. Skin 'n' trim your ribs.
3. Wet your hands and pat the meat so the surface is damp and then sprinkle on the salt. If you can do this the night before, please do. Otherwise, anytime prior to cooking will do. Then sprinkle with Meathead's Memphis Dust, enough to coat the surface, and massage it in.
4. Roast with smoke for 2 hours.
5. Pull off two sheets of 18″ wide heavy duty aluminum foil, about 2′ long and place them on top of each other. Place the slab in the center, bone side down, pull up the sides so you have a boat.
Drizzle 1/2 cup of the apple juice over the meat, wetting the surface. Wrap the slab tightly in two layers of foil. This is called the Texas Crutch. Cook in the foil for 1 hour at 225°F.
6. Take the meat out of the foil and put it back on at 225°F for another hour to firm up the crust.
7. While the ribs are back on, pour the apple juice from the foil into a sauce pan. Add the remaining half cup of apple juice. Boil it until about 1/3 cup remains. Add the maple syrup and heat over medium high. Stay right there and watch it carefully. It will bubble gently for a bit and when it reaches a certain temperature, the sugars will go nuts and the glaze will foam aggressively. As soon as it foams up, turn down the heat immediately and remove the pan from the flame until it stops frothing. You don't want it foaming for long or it could turn to hard candy.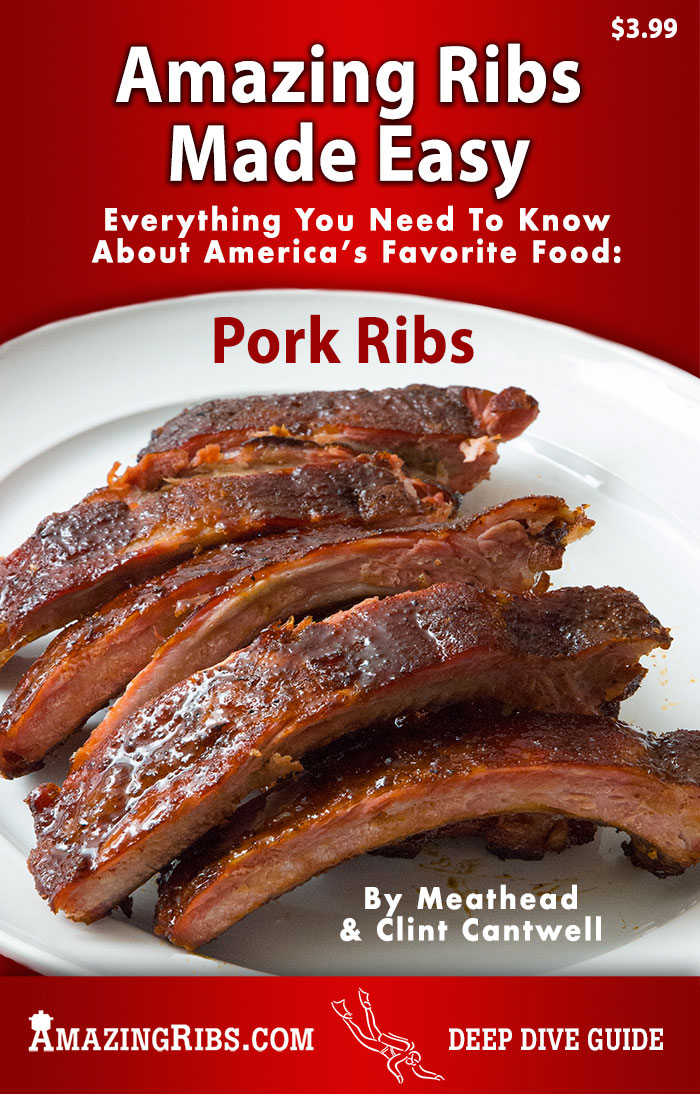 For more recipes just like these:
Amazing Ribs Made Easy –
by Meathead Goldwyn
Everything You Need To Know About America's Favorite Food: Pork Ribs – Amazon.com $3.99