It might be a family room or a rec room, or perhaps a man-cave with space for friends and family to watch the ball game.  As needs change and families grow, finishing or updating a basement for additional living space is commonplace.  But how do we heat this area and make it cozy and comfortable?  Whether it's gas, wood, electric or pellets, here's a few points to ponder and suggestions for adding a hearth appliance downstairs in your home.
GENERAL CONSIDERATIONS
If it's not done all ready, the first thing to do is thoroughly and completely insulate the sidewalls and sill box area.  A concrete block or poured concrete foundation wall must be well insulated.  In cold climates that means one or two inches of blue Styrofoam insulation followed by a 2 x 4 stud wall, insulated with fiberglass batts.  Another popular way to completely insulate sidewalls in cold climates is a 2 x 4 or 2 x 6 stud wall, insulated with an expanding spray foam.
The sill box area is that space on the top of the foundation walls where the floor trusses or floor joists are positioned.  This space is above grade, but must be completely sealed with fiberglass or spray foam as well.
It's always a good idea to insulate the slab.  There's only one opportunity to accomplish this and that's during construction, when it's poured.
The foundation walls almost act like a sponge if they are not well insulated.  There is significant heat loss through uninsulated foundation walls.  We want to keep the heat in the basement and not lose it through the cold foundation walls or sill box.
DECIDE ON FUEL TYPE
The next step is to decide on the type of fuel you prefer.  There are pros and cons with all four fuel types.  Usually, it's properly venting gas and wood chimney issues that are the most difficult challenges to overcome when planning a fireplace downstairs.
Let's talk about gas first.  If yours is a walk-out basement, is it possible to locate the fireplace or stove on part of the framed exterior wall that's above grade?  If so, the appliance can be vented horizontally through the framed sidewall.  If not, there might be room in the sill box area for a co-axial vent pipe.  If the floor joists or floor trusses are more than 10" tall, this might be another viable option for horizontal termination of the vent pipe.    Remember for horizontal terminations, a minimum of 12" above grade is required for the cap.  This is a safety consideration for any debris or snowing interfering with the termination cap.
Another possibility for a gas stove or fireplace is vertical termination of the vent pipe.  Can the fireplace or stove be positioned in the room, directly below a closet or in the corner of the room above?  Floor joists and floor trusses are spaced 16" on center with 14¼" between them.  The pipe could be installed up between the floor joists to the main floor, continue up through the ceiling, through the insulation and out the roof.
There are no horizontal options for chimneys.  The chimney for a wood burning fireplace or free-standing stove must be vertically terminated.  It's always best to keep a chimney as straight as possible and as warm as possible by keeping it inside the house for as long as you can.
If it's not new construction, the best option for wood is to install the chimney in the corner of a room or clothes closet, directly above the stove or fireplace.  The space that a six inch, insulated stainless steel chimney will need is about 22" x 22".  So, if you can give up a couple of feet of closet space, this option will likely be best.  The corner of a room might work too.  Once the chimney is through the floor joists and in the room above the stove, the pipe may need to be offset a bit to avoid a roof truss.  Pipe manufacturers recommend that the chimney pipe be framed around, to maintain the minimum clearance requirement.  Two inches is the minimum for most pipe.  Keep in mind, when it comes to clearances:  more is better.  If two is the minimum, there's not a thing wrong with three or four inches of clearance.
If at all possible, avoid an exterior installation with a wood burning chimney.  It's the most expensive and least desirable way to install one.  If it's a last resort, make sure the clean-out tee accessible.  Occasionally, a window well of sorts will need to be dug out so the tee is easy to get to for cleaning purposes.  The entire chimney should be framed around, ensuring clearances, and well insulated to prevent it from cooling off too quickly.
Considerations for venting a pellet stove are going to be similar to gas.  Pellet equipment can be horizontally or vertically terminated.  A pellet vent pipe is smaller than a vent pipe for a fireplace or stove.  Either three or four inches in diameter is common.  [Link to:  Why Heat w/Pellets?]
There is no venting required for an electric fireplace.  This is one of the main reasons' electrics have become so popular.  They can literally be installed anywhere!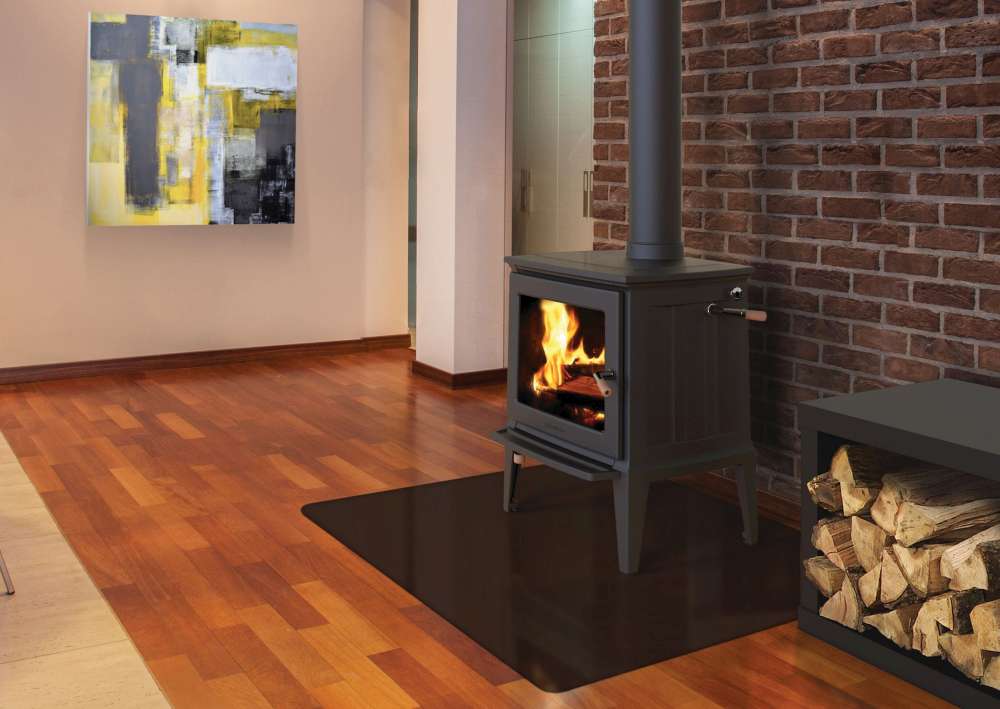 LET'S GET TO THE QUESTION!
We've thoroughly insulated the basement and have decided on the type of fuel to use.  The question at hand is:  will a fireplace heat a basement?  Depending on the amount of space you're trying to heat, the answer is a resounding 'yes'!  There are some other important points:
The heat output with gas and pellets is easily adjusted. Gas and pellet equipment range in size from 10,000 to 50,000 BTU's/hour.  Many gas stoves and fireplaces and pellet stoves operate on a remote thermostat that will maintain a pre-set temperature in the room.  Buy an appliance that is versatile in terms of heat output.  For an idea of the BTU's needed, click on the "Calculate How Many BTU's You Need" picture to the right.
The heat output with wood burning equipment can be very versatile, too. Just build a smaller fire if less heat is needed.
Electric fireplaces will be limited in terms of heat output. But if you're only concerned about a small area, an electric unit, or two or three, depending on the size and layout of your downstairs space, would be a great choice!  [Link to:  Do Electric Fireplaces Heat?]
Remember that a hearth appliance downstairs does not need to heat like your furnace. Your primary heating system needs enough horsepower to keep the house comfortable regardless of the outside conditions.  Worst case scenario:  -30° to 70° is a 100° temperature swing.  Downstairs in your basement that temperature swing might only be 50° to 70°, because your furnace is already doing part of the work.  Considerably less BTU's/hour will be required of the fireplace or stove.
Often fireplaces and stoves are oversized a bit. Regardless of the fuel type, the heat from this equipment is easily adjustable, based on the number of people in the room and weather conditions.  You can simply increase or decrease the amount of heat.
If the space in the basement is divided up or there are hallways to other rooms, it may be difficult to move the heated air from the fireplace. Install a few additional supply and return air ducts and then occasionally turn your furnace thermostat fan to the "on" position.   By doing this, you're circulating air through the ductwork of the entire house.  It's a great way to help even out the cooler spots, both upstairs and down.
WE'RE READY!
Your WE LOVE FIRE dealer has lots of expertise helping clients designing additional living space.  Get us involved early on in the project.  The location of the fireplace or stove often determines where the big screen is going to be mounted, where an office is located or how a bar can be positioned.  We'll do whatever we can to assist!