If your gas fireplace reminds you of the 70's or '80's and doesn't really fit your style or décor anymore, it's probably in need of some updating. Depending on the model and type of fireplace, there are a few items that can easily be updated to look like a modern gas fireplace. Let's explore some suggestions that enhance the focal point of your living space.
DETERMINE THE TYPE OF GAS FIREPLACE
The first step is to determine what type of fireplace you have. Is this a direct vented, sealed combustion unit? Is the glass sealed to the fireplace, or are there old bi-fold doors that need to be opened when you turn the gas on?
DIRECT VENT
A direct vented (DV) gas fireplace is often vented through an exterior side wall of the house. A DV fireplace relies on outside air for combustion and the glass is permanently sealed on the fireplace. These types of fireplaces can be good candidates for upgrades. Your WE LOVE FIRE dealer has a supplier that fabricates new, decorative fronts in dozens of exciting designs and finishes. Unique, handcrafted artistry fronts and doors will provide a beautiful finishing touch to your living room. These new fronts would simply replace the existing front without affecting the glass or the viewing area of the fire.
Your direct vent gas fireplace may also have options for the "media" inside the unit. There may be some optional logs, glass beads or stones available. Care must be taken to make sure that any changes to the media will not interfere with the design of the burner. Make note of the manufacturer, the model and if possible, the serial number of your fireplace. It will help your dealer determine what options are available for your specific unit.
Keep in mind that direct vented gas fireplaces have a sealed piece of glass with a decorative front. Some fronts are fairly plain, others quite fancy. These fronts may or may not have "cosmetic" doors incorporated with them to give the look of a real wood burning fireplace. On the other hand, wood burning fireplaces will not have decorative fronts. These fireplaces should have doors of some kind that allow access to the firebox. And, those doors can be updated too.
CONVERTED WOOD BURNING FIREPLACES
If you have doors that allow access to the ceramic logs, it's likely that you have a wood burning fireplace that has been converted to gas. Wood burning fireplaces will have a chimney going up and out the roof of the house. These types of fireplaces will not be vented through an exterior side wall. There may or may not be a door(s), and there may or may not be a safety screen.
Many fireplaces have bi-fold doors made of tempered glass in a brass frame. Many homeowners get tired of burning wood. Often, a gas line is run inside the firebox and a gas log set is installed. Now, the homeowner can enjoy the convenience of gas without all the hassles of a wood fire. One down side to this type of set-up is the fact that most gas log sets burn about twice as much gas and deliver just a fraction of the heat that a DV fireplace would provide. The fireplace damper must be fully open when burning gas logs.
If this scenario describes your fireplace, there's good news! You're going to have a wide range of terrific options for a fireplace remodel, both inside and out. To start with, you'll have many new door choices, both cabinet style or bi-fold, in dozens of finishes and styles.
Since these were originally installed as a wood burning fireplace, a gas supply line was installed into the fireplace. Then, a gas burner with a pile of logs on top connected to the supply line. Today's ceramic fiber log sets are extremely realistic. They are designed to simulate birch, oak, charred wood, western pine or driftwood logs. Many like to accessorize the logs with twigs, pine cones and bark chips. This type of project will make your fireplace come to life with beautiful and lively flames.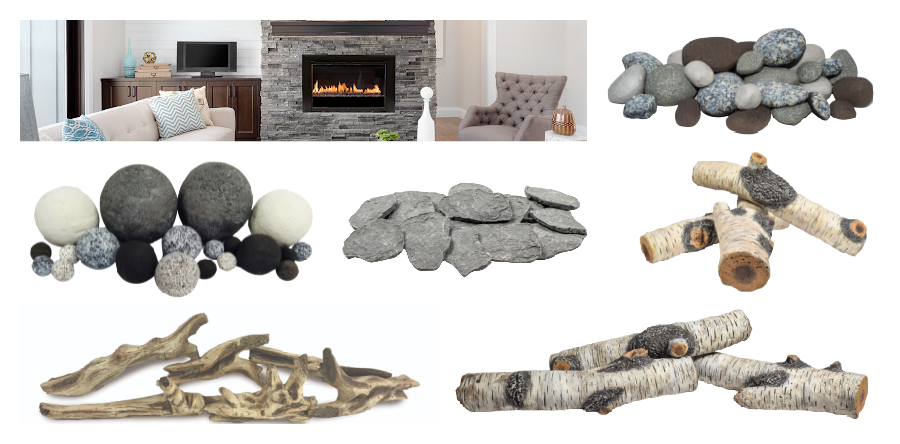 Maybe you're looking for something more sophisticated or contemporary? Instead of a decorative ceramic log set, how about a burner designed with blue, red, orange or yellow fire-glass? You decide between fire-glass chunks, beads or crushed glass. Don't be concerned about sharp edges. They've been removed in the manufacturing process! Other intriguing media options include colored fire-stones and geometric shapes. The effect of fire-glass and/or stones as the media in a gas fireplace is truly stunning.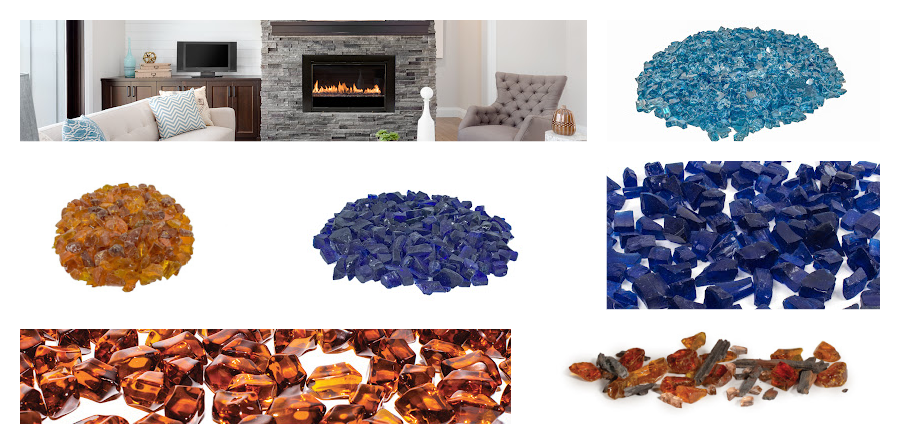 IS PAINTING AN OPTION?
Polished brass was all the rage in years past. Now, it's an outdated look. But if the trim and doors on your fireplace operate smoothly, are in good shape and you like the design, how about considering a quick painting project? Your WE LOVE FIRE expert has special high temperature aerosol paints that will provide a quick and inexpensive way to change the color of the doors and trim on your gas fireplace. Make sure the gas supply to the fireplace is off. Be careful to tape and protect the glass and materials around the fireplace from the over-spray of the paint. And, make sure you follow the directions on the can.
OTHER POSSIBILITIES:
Other ideas for updating for a more modern gas fireplace:
Replace the mantel and/or the hearth.
For a realistic touch, consider placing a tool set, bellows or some clean birch logs in a log rack on the hearth.
Reface the brick with a cultured stone veneer product.
Paint the brick around the fireplace.
Replace the ceramic tile around the fireplace.
Hopefully, this has given you a few options to think about if a fireplace makeover project is in the works. The point is, don't settle for an outdated, worn-out look. There are several things that can be done which are budget friendly. You owe it to yourself to check out the opportunities to enhance the look of your fireplace. You're going to be amazed!
Please spend a few minutes exploring these other articles we think you will find interesting:
For more media options see this link below for products from a Brand we Love :